Rise Up Times
Daniel Berrigan stood up for his beliefs – and rescued me from the draft. I've been pondering the meaning of resistance as I write a musical about Joan of Arc.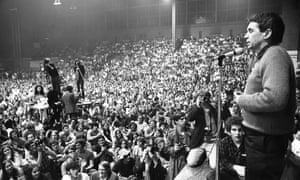 Anti-Vietnam war activist Daniel Berrigan at Cornell University in Ithaca, New York, circa 1970. Photograph: Images Press/Getty Images
He touched many lives, including my own.
In 1968, he and some compatriots broke into a small-town draft board in Catonsville, Maryland. They took the records out to the…
View original post 971 more words