© blogfactory
Evo Morales has announced he will resign as president of Bolivia
after the military called for him to step down and the police withdrew
their support following weeks of unrest over disputed election results.
In a televised address, Bolivia's president of nearly 14 years said
he was stepping down for the "good of the country". but added in an
attack on opponents whom he had accused of a coup attempt: "Dark forces
have destroyed democracy."
Morales, Bolivia's first indigenous leader, later said on Twitter
that the police had an "illegal" warrant for his arrest and that
"violent groups" had attacked his home in Cochabamba, a city in central Bolivia.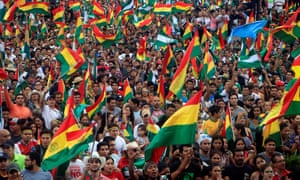 Bolivians celebrate the resignation of Evo Morales in La Paz. Photograph: Juan Carlos Torrejon/EPA
The commander of Bolivia's police force said in a television interview that there was no warrant for Morales's arrest. Video circulating on social media showed…
View original post 257 more words