Between March 18—the rough start date of the pandemic shutdown, when most federal and state economic restrictions were in place—and May 19, the total net worth of the 600-plus U.S. billionaires jumped by $434 billion or 15%, based on the group's analysis of Forbes data. The billionaires' worth rose from $2.948 trillion to $3.382 trillion.
The top five U.S. billionaires—Jeff Bezos, Bill Gates, Mark Zuckerberg, Warren Buffett and Larry Ellison—saw their wealth grow by a total of $75.5 billion, or 19%. Together they captured 21% of the total wealth growth of all 600-plus billionaires in the last two months. The fortunes of Bezos and Zuckerberg together grew by nearly $60 billion, or 14% of the $434 billion total. In March there were 614 billionaires on the Forbes list, and 630 two months later, including newcomer Kanye West at $1.3 billion.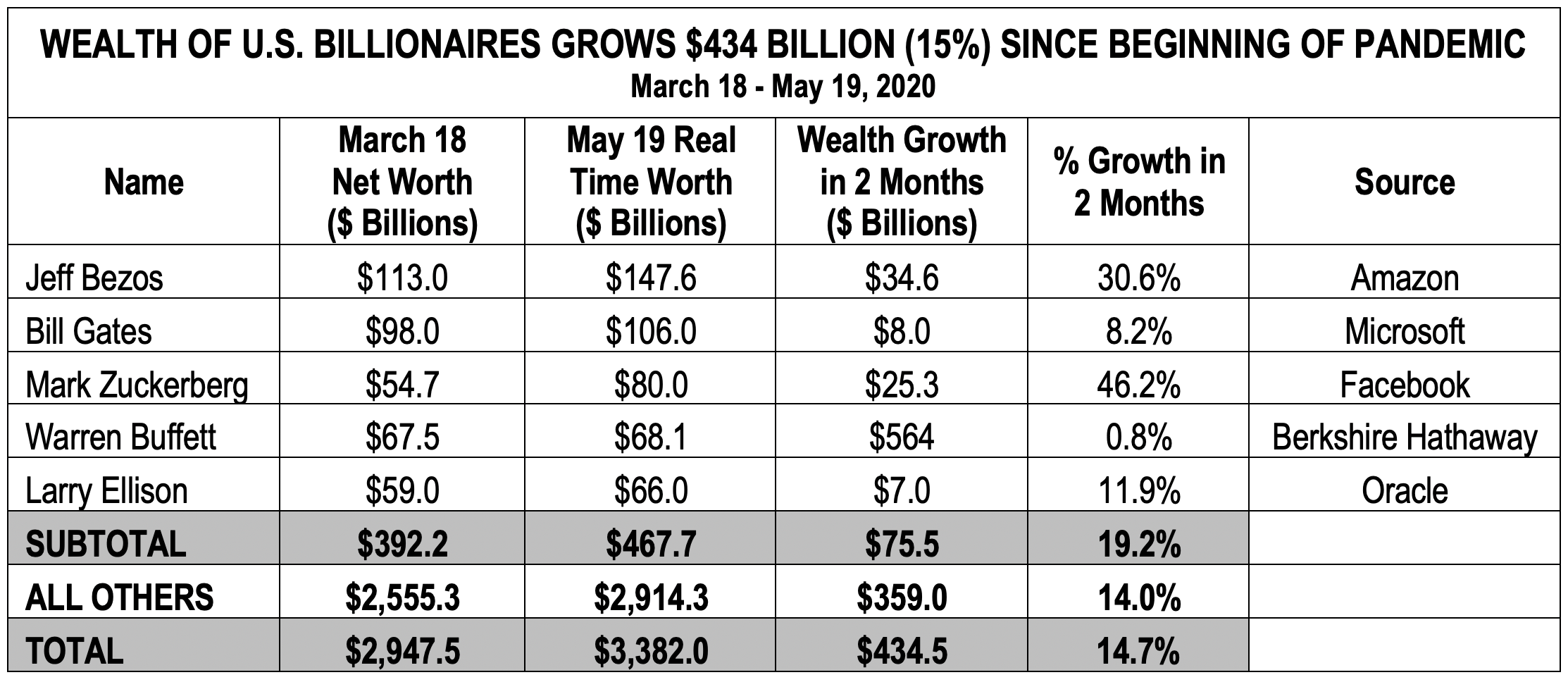 During that same approximate period, more than 38 million working Americans lost their jobs, nearly 1.5 million Americans fell ill with the virus and almost 90,000 died from it.
Between March 18—the rough start date of the pandemic shutdown, when most federal and state economic restrictions were in place—and May 19, the total net worth of the 600-plus U.S. billionaires jumped by $434 billion or 15%, based on the group's analysis of Forbes data. The billionaires' worth rose from $2.948 trillion to $3.382 trillion. The top five U.S. billionaires—Jeff Bezos, Bill Gates, Mark Zuckerberg, Warren Buffett and Larry Ellison—saw their wealth grow by a total of $75.5 billion, or 19%. Together they captured 21% of the total wealth growth of all 600-plus billionaires in the last two months. The fortunes of Bezos and Zuckerberg together grew by nearly $60 billion, or 14% of the $434 billion total. In March there were 614 billionaires on the Forbes list, and 630 two months later, including newcomer Kanye West at $1.3 billion.

TALE OF TWO CRISES: BILLIONAIRES GAIN AS WORKERS FEEL PANDEMIC PAIN – Americans For Tax Fairness